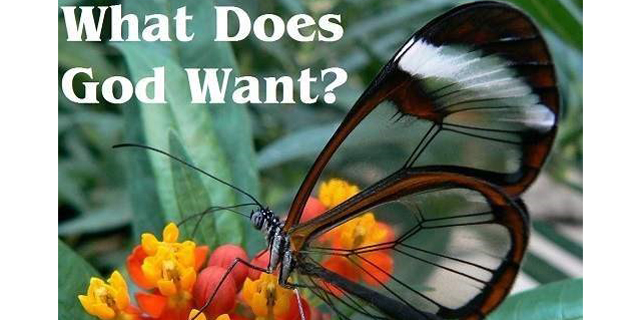 The Rev. Maryanne Ditter,
Minister of Spiritual Formation
Mt. Tabor UMC, Woxall
"We would all probably agree that God does not want us miserable, tired and cranky."  I read those words in a recent e-mail sent by a co-worker, titled Upcoming Events. She went on to encourage us to "look for, believe for an infusion of joy."
That message spoke to me and made me question, "What does God want for me?"
I must admit I agree with the idea that God does not want for me to be miserable, tired or cranky.  I believe He wants more for me than that. But while I know this in my head, I don't always think about what it really means for me or how I will stop myself from going in a direction different than what He wants.
I was looking at Scripture and came up with several passages that remind me that He wants only good for me.  The one that has become a favorite for me is Jeremiah 29:11.  This says "For I know the plans I have for you," says the Lord, "plans to prosper you and not to harm you, plans to give you hope and a future."  Doesn't this remind you that God wants only good for us?  Do you think He wants us to be miserable or anxious?  Not when He says "Do not be anxious about anything but in every situation, by prayer and petition, with thanksgiving, present your requests to God."  (Phil. 4:6)
Yet, why do we sometimes allow things like anxiety, fear, indecision, etc. rule our lives when God's word clearly tells us not do this?  One answer I have come up with over the years is that my focus goes to the situation that makes me anxious rather than focusing on God and how He wants me to handle the situation; or, how God wants us to be in a particular situation.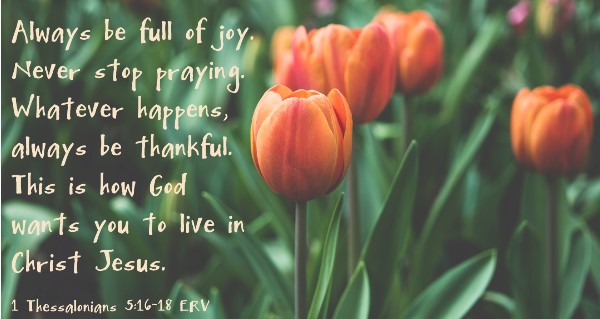 God wants us to trust Him in all things.  As you know, it is hard to trust someone unless we know them well or have seen them do things that show that they are trustworthy.  But we need to do all it takes to learn to trust God in all of our situations, rather than focused on the situation and what we can do in the midst of it.
The other part of my co-worker's statement encourages us to look for, and believe for, an infusion of joy.  What would that look like for you?  If you think about it, we can also find this joy by focusing on God who brings us joy in the midst of all of our situations.
In James 1:20 we are reminded "Consider it pure joy, my brothers and sisters, whenever you face trials of many kinds."  We can only do this when focused on God, trusting God, being convinced that He is with us always.
I have discovered that spending time in quiet with God works wonders when I am seeing my life go out of control. This also works when I begin to put anxiety and fear ahead of what God's promises for me are.  We really must learn to stop and spend time focusing on the One who gives us His peace, comfort, power, love, joy and so much more.
All we need to do is ask Him for His help.  Unfortunately, we usually get to a place where we try to do it on our own rather than asking for help from God.
I am convinced that we will only get to this point of trusting that God has this when we study God's word either on our own or in a group.  Doing this helps us to fully grasp what God is saying to each of us as we face all the situations in our lives.
Being a part of a group encourages me as I hear people talk about their struggles and how they got through them.  Studying God's word together helps me to look at Scripture differently.  I know it helps me to walk through life differently and to walk through the difficult stuff confident that all that is happening works together for good (Rom. 8:28).
So, I encourage you to be a part of a small group or attend something more than worship.  Attend a Bible study or Sunday School class if you are not already a part of one.  It is still early enough in the year to start a new habit for 2018 that has us focused on God, His word and promises for us.